What would a weight loss program be without a before and after compilation? Well, The Master Cleanse, despite being a detox diet first, is famous for its propensity for fast weight loss. The following series of 15 images are the best collection of Master Cleanse Before and After photos available today. BUT, if you have your own to contribute, make sure you send them along (form at the bottom) for a chance to win your next detox supplies and $100 gift card to Amazon.com.
The following 5 photos are of TheMasterCleanse.org's humble (ahem) author. Please forgive the attire, I didn't really plan on sharing, or I might have worn gym shorts rather than boxer shorts. But I am not that shy, and they really are revealing (Hey, c'mon, I mean towards the effects of The Master Cleanse Before After, nothing more. Dirty minds…)
Before and After Weight Loss from 10 Day Master Cleanse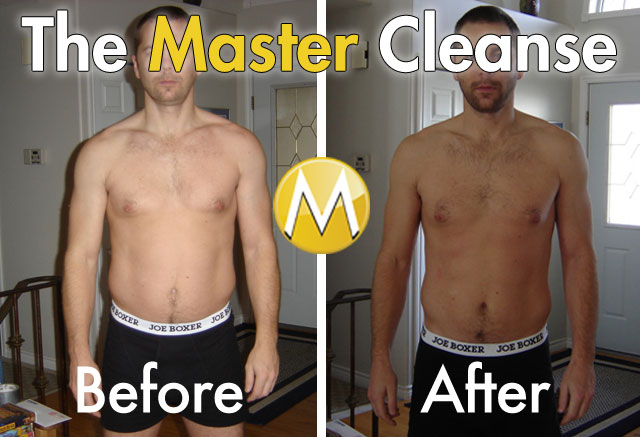 Everyone has a before and after photo of their front, but there's more to the shape of our bodies than that. The weight gained and lost on the master cleanse hides on the back of your arms, behind your shoulder blades and inside your thighs.
You can really see the difference here in the overall size of my body, especially the back of my arms and the tapper to my back.
This before photo is what I call the barrel and perrogies (yes I am Ukrainian ((and Polish)). Both are dimminished after the master cleanse. Just be sure you don't eat a barrel full of perrogies after your cleanse or you'll go right back to the before photo.
The Pinch… Lose an inch here and you're see the difference everywhere. You can see I lost several inches after my master cleanse.
Master Cleanse Before and After Photos from Online
[easyazon_image align="right" asin="0975572253″ locale="us" height="160″ src="http://ecx.images-amazon.com/images/I/51g2xGVYQML._SL160_.jpg" width="104″]These 7 photos of before and after master cleanse photos are from around the web. So many people do The Master Cleanse, but in this digital age, not too many people have shared their photos. If you're going to do The Master Cleanse, consider documenting your experience and getting the support from our Group Cleanse. Share your photos or videos and we'll reward you for your efforts. Show off your success, be proud!

Celebrity Master Cleansers Before and After
Of course there are a few famous persons out there that have done The Master Cleanse. These before and after master cleanse photos are from 2 of the 3 most famous celebrities to succeed losing weight with The Master Cleanse.
(Honestly) There is no proof these photos are actually right before and after the master cleanse as they didn't join our Group Cleanse and post their experience. These images are collected for entertainment purposes only. NOTE: These celebrities have in fact noted their Master Cleanse stories in several publications and interviews, so we at least know they are indeed Celebrity Master Cleansers.
Jared Leto was thought to have done The Master Cleanse several times both for health reasons and for the fast weight loss sometimes needed for movie roles.
Robin Quivers was one of the first celebrity cleansers who claimed the master cleanse as their secret weapon, not to be outdone by the cleanse title thunder-stealer (because the master cleanse is also sometimes called "The Beyonce Diet"
Submit Your Own Master Cleanse Before After Photos and Videos – Win $100
Do you have Master Cleanse Before and After photos or videos to share your experience with our community? Let your victory inspire another, and walk away with some pretty sweet swag as well. When we get to 10 useful entries, we'll make a random draw. You'll have a 1/10 chance at winning your next cleansing supplies and $100 gift certificate to Amazon.com. Enter here by uploading your photo.